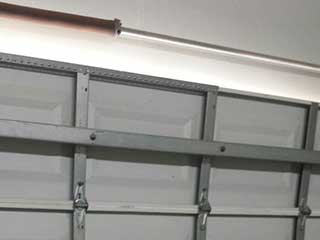 Problems with a broken garage door spring mean that you can't use the door safely or reliably. That's a major hurdle for a busy day, or even for a quiet one. Even if you're not in a hurry to go to work or catch some appointment and you just came back from a long day, if your garage door spring breaks, you can start getting a real headache. Well, we're here to mitigate that. With help from the Garage Door Repair Buford experts, broken spring replacement will take absolutely minimal expenses and time. No need to waste precious hours of your day. With one phone call, you can have the broken spring replaced ASAP.
Dangers Of Broken Springs
It's widely known that the most common problem garage doors experience is a broken spring. And it's not surprising. The most hardworking parts of the system are the springs. They pull the most weight when it comes to lifting and lowering the panels. That means they suffer the most wear over time too. When garage door springs weaken, it means they are likely to break soon. It's a good idea to have them checked and maybe even replaced already, to prevent inconvenience later on. What's important to remember is that garage door springs are dangerous, so you should let professionals carry out replacement whenever it's needed. It's possible to get very seriously hurt when trying to do this task yourself if you don't know how to safely replace broken springs. So don't take risks and save yourself the headaches and wasted time.
Quickest Garage Door Spring Repairs in Buford
We pride ourselves on delivering fast solutions every time. Combine that with our affordable service rates, and you've got a bargain! Whenever broken garage door springs need replacing, the local technicians we employ can get the job quicker than anyone else. Save on future costs by getting it done right the first time. Call Garage Door Repair Buford for fast broken spring replacement on any given day.